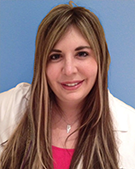 Dr. Fawn Winkelman, Board Certified in Osteopathic Family Medicine & Osteopathic Manipulative Medicine, is a native Floridian and has been living in Florida her whole life. After graduating from the University of Florida with a Bachelor of Science Degree in Microbiology and Cell Science, she attended medical school at Nova Southeastern University College of Osteopathic Medicine. Dr. Winkelman has a strong interest in Aesthetic Medicine with a focus on Skin and Anti-Aging as she grew up with parents who were both pioneers in Dermatology and Facial and Body Aesthetics. After tragically losing both her father (Dr. Jeffry Winkelman) and mother (Dr. Janee Steinberg) to cancer, Dr. Winkelman has taken a special interest in preventative medicine. She incorporates this into her patient care while exhibiting great bedside manner, compassion, and professionalism. She has a great eye for aesthetics and is an all around complete physician.

In addition to patient care, Dr. Winkelman plays an integral role in the education of medical students, interns, and residents as well as colleagues by lecturing at various local hospitals, residency programs, and medical schools in South Florida. She is a Clinical Assistant Professor in the Department of Family Medicine at Nova Southeastern University College of Osteopathic Medicine. She continues to publish scientific papers and book chapters as well. She is actively involved and is on the executive Board of Governors of the Broward County Osteopathic Medical Association (BCOMA) and was formerly the Treasurer as well as the Board of Trustees for the Florida Osteopathic Medical Association (FOMA) where she takes an interest in patient safety and care in Florida.

Dr. Winkelman's unique path and training translate into unparalleled care for her patients so they may achieve a healthy and beautiful appearance inside and out! Dr. Winkelman looks forward to the opportunity to meet you and invites you to be part of her practice.
| | |
| --- | --- |
| Dr. Fawn Winkelman is Board Certified in Osteopathic Family Medicine by the American Osteopathic Board of Family Physicians since 2013. | Dr. Fawn Winkelman is on adjunct faculty of Nova Southeastern University as a Clinical Assistant Professor, Department of Family Medicine since 2014. |
| | |
WHAT IS A D.O. (Doctor of Osteopathy)?
We are glad you asked.

There are only two kinds of physicians qualified to be licensed for the unlimited practice of medicine in all 50 states: those holding the M.D. degree, and those who have earned the D.O.- doctor of osteopathic medicine-degree.

Osteopathic physicians perform surgery, deliver babies, and prescribe medicine in hospitals and clinics across the nation. Whether they're family doctors or specialists, D.O.'s use all the tools of modern medicine…and more.

They help their patients develop attitudes and lifestyles that don't just fight illness, but prevent it. They give special attention to how the body's nerves, muscles, bones, and organs work together to influence health. And, through osteopathic manipulative treatment, they can use their hands to diagnose injury and illness… and encourage the body's natural ability to heal itself.

These "extra touches" distinguish the D.O.'s whole-person philosophy of medicine. It's a century-old tradition of caring for people, not just treating symptoms.

Thanks for asking!