Dr. Fawn Winkelman understands that feeling good is important, but so is looking good. With her unique approach in combining both her knowledge on family medicine, preventative medicine, and aesthetics/cosmetics, Dr. Fawn Winkelman can help you look and feel your best!

Aesthetic Medicine is constantly evolving and as it does, we do.
Currently, we offer these procedures:
For more information, please click the links below!
Dermal Fillers: Juvéderm Ultra XC®, Juvéderm Vobella XC®, Juvéderm Ultra Plus XC®, Juvéderm Vollure XC™, Juvéderm Voluma XC™
Skincare Products: Elite Medicine SkinCare Line, Silagen® for Scars, IS Clinical®, Professional Acne Products, Professional Anti-Aging Products, Latisse®, elon Matrix®, Nutritional Frontiers, Formula 7
Nail Fungus: Laser and Skincare products
Non-Surgical Body Contouring and Sculpting: body sculpting, permanent fat reduction, improve skin laxity
Laser: skin resurfacing, fine lines/wrinkles, vessels/sclerotherapy, photorejuvination, acne, acne scars, pigment, hair removal
Microneedling and Microdermabrasion: acne scars, scarring, fine lines, wrinkles, resurfacing
PRP (Platelet Rich Plasma) and Human Growth Factors (GF): acne scars, scarring, fine lines, wrinkles, resurfacing, hair thinning/loss
Facials/Peels and Dermaplaning: maintenance of skin care conditions, rejuvination of skin, acne, scarring, pigmentation
Vitamins/Supplements: Vitamin D, Krill Oil, Probiotics, Multivitamins, EZ-Iron, Iodine, Mood Lift, Sleep Time, Brain Boost, DIM, Turmeric, Biotin, Lysine, AirMaxx, NAC, and many others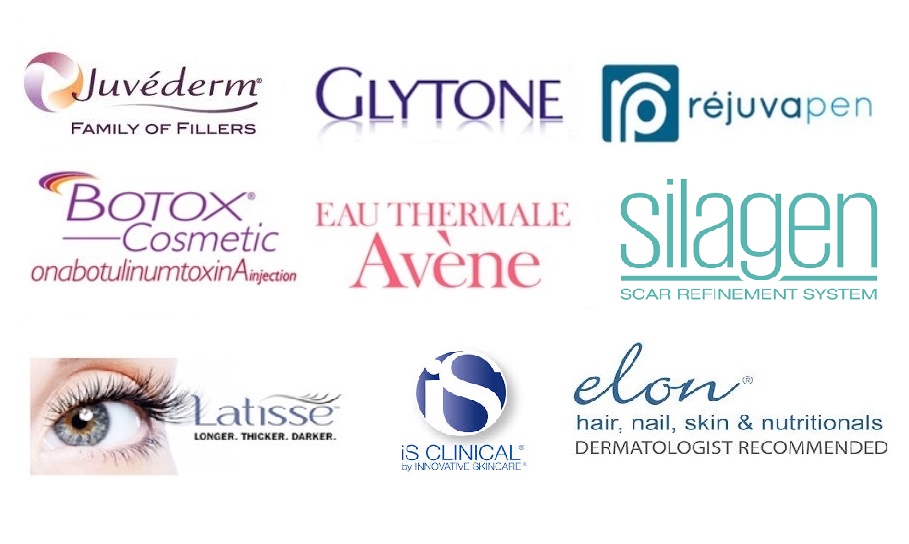 To sign up for future specials Click Here